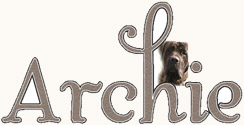 Archie is our newest male dog addition to Ringsides Kennel. He is a big boned apricot/brindle. He has the bone structure to be a dog that will weigh in around 200 pounds when he's fully grown. He has started his show career and is learning how to prance and stack in the show ring. He is playful and polite around other dogs. His days to compete and win has started. He is a bit clumsy now, but so are teenage boys with size 14 shoes. Eventually he'll grow into that gawkiness and mature into a gorgeous dog. It's fun watching a puppy grow up in the show ring atmosphere. He's better than our other dogs at the same age; he seems to be a little more relaxed. Brindle dogs are a bit more difficult to finish than fawns and apricots are. Archie's dark coat makes him look a little smaller than the other dogs he's competing against. Dark colors have a slimming effect and it makes Archie seem a bit smaller than he really is.
The apricot under color in his coat will allow him to help produce a rainbow of colors when it's time. He is being preliminary tested for soundness in hips, elbows, patella, heart and thyroid. His permanent tests will be performed when he reaches 2 years old. Archie has been ID chipped through the Home Again program. The program works. Get your pets ID chipped. Archie was lost and his chip was scanned and Archie was returned to us. Without the chip we would have missed out on a fun and loving dog.
The summer of 2011 Archie was placed in a new home with the John Garcia family. He will be their pet along with the other animals that live with them. Archie had an elbow injury that developed when he leaped out of a pick up truck. It didn't show up on his health testing until after he was two years old. He is more comfortable being a pet and guard dog, rather than a show dog.
Sharing
So its to school
A working day...
To heel, sit, down or stay...
To take the leash
To fetch, to come...
I'll learn them all,
They will be done...
But in return for Freedom lost,
I must request this tiny cost...
Be gently patient
With this heart of mine,
When I do well,
To me be kind...
As dog and human,
We thus shall blend...
To well trained master,
And faithful friend
-by Monk 1978